Ref:
Date:
Location:
Photographer:
Ref:
Date:
Location:
Photographer:
Noticeboard
Exploring photo stills and film onto video.
As part of my latest exhibition 'All Washed Up' I have included video installation, part of the exhibit footage can be seen in this video. The installation features photography and short film by Moira Buchanan Artist and photography by invited artist Hugh Loney.
Poetry, prose and Haiku are from selected poets and writers who, very gratefully, allowed me to enter their works to the exhibit in both video and handmade paper installations.
My gratitude to all who took part in the exhibit, and to everyone who helped with displaying the work.
A very special thanks to everyone who came to the opening on 1st Dec and to folks still popping by to have a look.
I appreciate your support.
Video 1
Video 2
Video 3
Paper making video for new art works by Moira Buchanan
For upcoming exhibition Buchanan alongside the Harbour Arts Centre in Irvine, would like to invite poets, writers, creatives and any written word fanatics out there to participate in an exhibition of works to be showcased this year.
Call for Submissions, Poetry, prose, Word or Haiku, Harbour Arts Centre Exhibition
In December the Harbour Arts Centre is delighted to host an exhibition of work by artist Moira Buchanan. "All Washed Up" will focus on organic forms washed up on beaches in Scotland. The concept is to explore peoples' ideas of Scotland's coastline.
In this open submission of poetry, we would like to invite you to express your ideals of the Ayrshire coastline by means of poetry, prose or word.
Open submissions to all level of poets or lovers of poetry. No age limit applies.
Successful entrants' will be selected by a chosen committee to take part in the exhibition of works by Moira Buchanan here at the Harbour Arts Centre, Irvine from Friday 2 December - Sunday 22 January 2017.
Your submission which will be based upon your personal experience of your local beach environment or of your most loved beach in Scotland.
Selected submissions will appear in either a handmade paper booklet or on visual media platform.
Some participants may have a chance to be recorded as part of a visual media installation. Please submit your interest in taking part when entering your poetry submissions.
The deadline for entries is Monday 17 October
To submit your entries, or for more information please email:
poetrymbartist@mail.com
https://www.facebook.com/FriendsOfTheHarbourArtsCentre
The MacLaurin Gallery Magazine
Moira Buchanan Fine Art is featured in The MacLaurin Gallery Magazine with her upcoming exhibition at The Harbour Arts Centre in Irvine, Ayrshire.
'Introduction 2'
Exhibition - Gilchrist Postgraduate Club, University of Glasgow
This is the second series from the third and final chapter - 'All Washed Up'. It is based upon photographic images taken over a number of years at various coastal locations in Scotland. Over the last year the images were compiled, sorted and hand picked to reflect the artists link to what the coastline means to her personally. In almost all her images she focused primarily on the finite elements of the coast as opposed to the actual vastness of such an environment.
The exhibition will be on display within the Gilchrist Postgraduate Club venue till December with limited access to the public from October.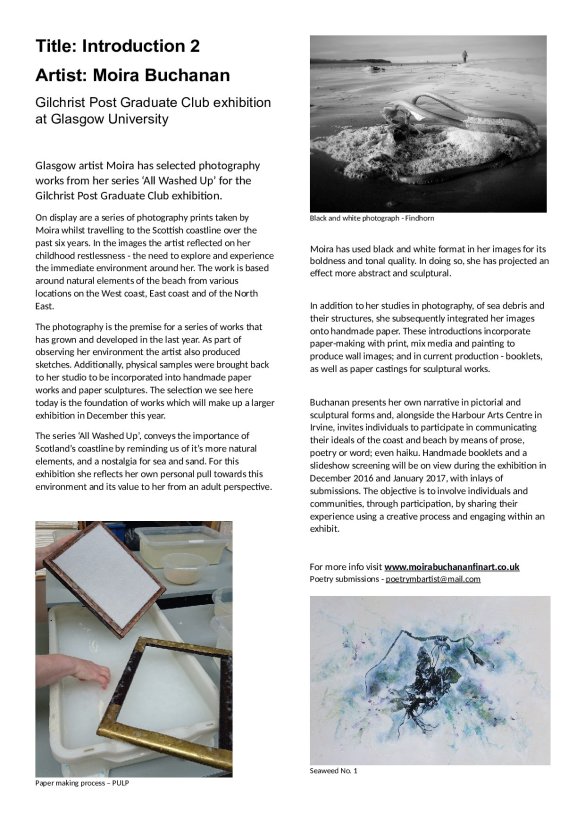 Introduction 1
Exhibition - The Glad Cafe - Glasgow
Introduction 1 is an exhibition of works from the series 'All Washed Up'
'Introduction 1' is currently on display at the Glad Cafe in Glasgow for the month of September. The series is the first of three exhibits by the artist reflecting on Scottish coast and shoreline environment. In this selection the artist has developed photography print and painting onto rough textured paper.
Within 'Introduction 1' Moira has kept her images simplistic by introducing the coastline environment within a finite context. By this application she exudes a personal and contemporary identity between viewer and image. The art created by the artist is seen to invite the viewer to contemplate the coast, in particular, the Scottish coastline. By developing mix media within her studies, she is enticing us to look closely at our shoreline and it's ever changing environment.
What's going on at Moira Buchanan Fine Art
2015 was an eventful year for Moira Buchanan Fine Art. Her work has expanded into photography, developing works mostly in black and white. Additionally, she has further developed her skills in traditional print making techniques whilst experimenting with mix media and paper production and moulding. Furthermore, Moira has extended her theme of nature in her latest work expressively by introducing her love for texture and colour. She has used varied materials to accomplish intense and diverse imagery. Her exuberant confidence in balancing colour with texture can be seen as subtle, yet, impenetrable.
Moira is currently exhibiting in 2016 in mixed shows at Glasgow's 516 The Gallery and the Tighnabruaich Gallery in Argyll.
Later in the year Buchanan has two solo shows' showcasing her 'Beached Art' works in the West of Scotland and in Glasgow. Details of solo exhibitions will be introduced over the coming months.
Riverside Show and Parade Artists
Check out the Links page on this sight to see interviews from STV's Riverside Show.
Cultural Enterprise in Glasgow
Photographer Reuben Paris snaps up the chance to photograph artist Moira Buchanan in her studio in Glasgow.
Images were taken of artists and makers for Cultural Enterprise whom support creative business and talent in Scotland.
www.reubenparis.com/blog
www.culturalenterpriseoffice.co.uk
Some news from Moira Buchanan Fine Art
After a week of tearing my hair out setting up the studio for WASPS Hanson Street annual Open Studios the workspace was finally complete for viewing.
News at Moira Buchanan Fine Art
25/05/14